Restore Your Smile and Confidence with Treatment for Chipped Teeth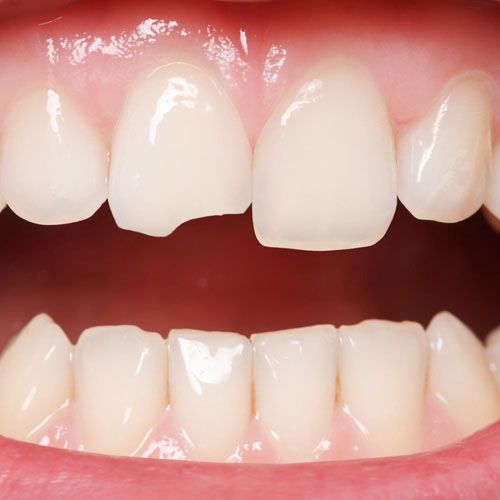 If you suffer from one or more chipped teeth, it's important to seek treatment as soon as possible. Chipped teeth are vulnerable to further damage, specifically tooth decay. Dental chips damage the protective enamel layer of the teeth, allowing plaque, bacteria, and acids to reach the inner structures of the teeth, increasing the risk and rate of decay. Restorative dentistry treatments can repair chipped teeth, preventing further damage and restoring the beauty of your smile. To find out which treatment for chipped teeth is right for your needs, schedule a consultation with South Ogden, UT dentist Patrick Tanner. The following treatment options for chipped teeth can help prevent decay and restore both oral health and the smile's appearance.
Porcelain Veneers
Porcelain veneers are a popular treatment for repairing minor chips and fractures, as well as masking other dental flaws on the front facing teeth. Porcelain veneers are wafer-thin, tooth shaped shells that are bonded to the front surface of the teeth. Each veneer is custom-made to the desired shade, shape, and size to improve the overall appearance of the smile.
Dental Bonding
Dental bonding can also be used to repair minor chips and hide dental flaws. Dental bonding treatment restores the appearance of the teeth using a soft, tooth-colored resin. This resin is applied directly to the teeth and molded to the desired shape and size. Once the desired appearance is achieved, the resin is hardened and polished to create a beautiful, chip-free smile.
Dental Crowns
Dental crowns are tooth-shaped prosthetics designed to completely encase individual teeth, making them a suitable option for repairing severely damaged teeth. Dental crowns can help restore the strength, appearance, and function of teeth with major chipping, decay, or other significant damage, saving such teeth from requiring extraction.
Onlays
Onlays, also called "partial crowns," are tooth-colored restorations used to repair moderate dental damage. Onlays are made of porcelain and are customized to seamlessly blend with the surrounding tooth. Onlays are an ideal solution for those who suffer from damage too severe for dental bonding or veneers but not severe enough to require a full dental crown.
Can Chipped Teeth Be Avoided?
Unfortunately, it's not always possible to prevent a chipped tooth, as many people experience chipped teeth as a result of an unforeseen accident. However, there are steps you can take to reduce your risk of chipping a tooth, such as:
Don't chew on hard objects: Chewing on hard objects, like metal or plastic pen caps, fingernails, and ice, can cause dental chips and fractures.
Don't use your teeth to open packages: Never use your teeth to open packages, cut tape, or in any capacity in which you should use some sort of tool.
Wear a mouth guard when playing sports: Those who play contact sports, like football, hockey, or boxing, should wear a mouth guard to protect the teeth from sports-related injuries.
Seek treatment for teeth grinding: Teeth grinding can damage the teeth in a number of ways. If you suffer from teeth grinding, it's important to seek treatment to protect your smile from the dangers of teeth grinding.
Find Out Which Treatments Are Right for You
To find out which treatment options are right for restoring your smile, we welcome you to schedule a consultation with Dr. Tanner.
Related to This