Tooth Discoloration: Cosmetic Dentistry Treatment Options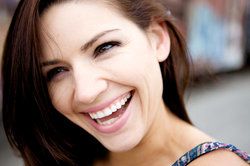 Here at South Ogden Smiles, we believe in offering numerous options to patients to address their dental health issues. When it comes to tooth discoloration, for instance, Dr. Patrick Tanner offers Zoom! teeth whitening to remove dental stains in addition to so many other options.
We'd like to take a moment right now to look at some of the treatments out there to address stains and discoloration. You may be surprised to learn what they are.
Types of Tooth Discoloration
There are three kinds of tooth discoloration that people generally suffer from. These are as follows:
Extrinsic Dental Stains - These kinds of dental stains originate at the surface layer of the teeth
Intrinsic Dental Stains - These kinds of dental stains originate within the tooth structure itself rather than on the surface
Age-Related Tooth Discoloration - This kind of discoloration is caused by long-term wear and tear on the teeth and is generally a combination of intrinsic and extrinsic issues
Causes of Tooth Discoloration
Some of the most common causes of tooth discoloration include the following:
Tobacco products
Coffee
Tea
Red wine
Cola
Beets
Curries
Blueberries
Tooth decay
Tooth injury
Tooth infection
Tetracycline
Genetic conditions
The cause or causes of tooth discoloration as well as the kind of stain you have will determine the ideal form of treatment for your needs.
Professional Teeth Whitening
Professional teeth whitening is one of the best options to consider for extrinsic dental stains. This in-office treatment will involve the exposure of the patient's teeth to special bleaching gels that help brighten the tooth itself at the surface.
Professional teeth whitening is far more effective than the over-the-counter treatments you can buy at the store. Even the most sophisticated over-the-counter tray system cannot compare to in-office care.
Porcelain Veneers
Porcelain veneers are thin shells of specially made dental ceramic that are used to cover the front surfaces of a person's teeth. When in place, the porcelain veneers are able to mask many different kinds of aesthetic flaws, including serious extrinsic dental stains and intrinsic tooth discoloration.
Dental Bonding
Dental bonding involves the use of tooth-colored composite resins that are painted onto the tooth's surface. The bonding material masks various aesthetic flaws from view and makes your teeth look totally pristine. Dental bonding is ideal for both intrinsic and extrinsic dental stains.
Dental Crowns
When your teeth are seriously discolored as a result of injury, infection, or decay, the use of a dental crown tends to be the most ideal option for care. Dental crowns are caps that fit over the affected tooth in order to protect it and conceal flaws from view. Tooth-colored dental crowns would obviously be used for maximum cosmetic benefit.
Picking the Right Option for You
There's no one-size-fits-all solution to treating dental stains and other cosmetic flaws. During your consultation at our practice, we will be sure to go over all of your options for care and develop an ideal treatment plan for you. In some cases, a combination of treatments would be best for you and your needs. This will involve custom designing a smile makeover and implementing that treatment carefully to ensure the best possible results.
Schedule a Consultation for Cosmetic Dentistry Treatment
For more information about all of your options for treating and preventing dental stains and tooth discoloration, be sure to contact our cosmetic and restorative dentistry center today. The entire team at South Ogden Smiles looks forward to your visit and helping you achieve the smile of your dreams.
Related to This